By Paul Rudoff on May. 14, 2023 at 7:00 PM in Home Video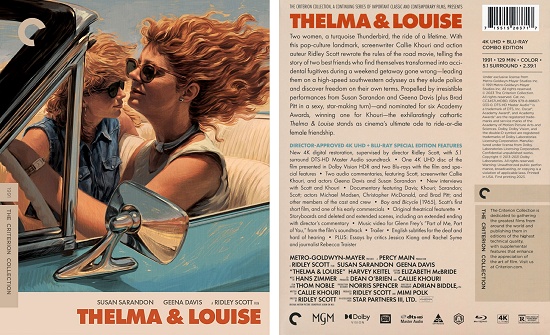 The Criterion Collection is set to release
Thelma & Louise (1991) on 4K UHD/Blu-ray
on May 30, 2023. Read on to find out more about it...
[ SYNOPSIS ]
Two women, a turquoise Thunderbird, the ride of a lifetime. With this pop-culture landmark, screenwriter Callie Khouri and action auteur Ridley Scott rewrote the rules of the road movie, telling the story of two best friends who find themselves transformed into accidental fugitives during a weekend getaway gone wrong - leading them on a high-speed Southwest odyssey as they elude police and discover freedom on their own terms. Propelled by irresistible performances from Susan Sarandon and Geena Davis (plus Brad Pitt in a sexy, star-making turn) - and nominated for six Academy Awards, winning one for Khouri - the exhilaratingly cathartic Thelma & Louise stands as cinema's ultimate ode to ride-or-die female friendship.
[ SPECIFICATIONS ]
The movie is presented in a 2.39:1 aspect ratio with a runtime of 2:09:40. The movie
has been rated
R for strong language, and for some violence and sensuality. Audio languages include English. Subtitle languages include English SDH.
[ SPECIAL FEATURES ]
All of the content listed below can be found on the Blu-ray discs. The 4K UHD disc only includes the two audio commentaries.
Audio Commentary - with Ridley Scott; recorded in 1996.
Audio Commentary - with Geena Davis, Susan Sarandon, and screenwriter Callie Khouri; recorded in 2001.
Ridley Scott: Beginnings (22:23) - In this new interview, Ridley Scott discusses his background and the evolution of his career in the film industry.
Boy and Bicycle (27:50) - This short film by Ridley Scott was shot in 1965 and stars his younger brother, Tony Scott.
Ploughman (0:33) - This ad for Guinness was made for Ridley Scott Associates (RSA) and released in 1977.
Callie Khouri (20:02) - In this new interview, screenwriter Callie Khouri discusses the genesis of the original screenplay for Thelma & Louise.
Thelma & Louise: The Last Journey (59:37) - This archival documentary from 2001 is presented in three parts: "Conception and Casting", "Production and Performance", and "Reaction and Resonance". It features clips from interviews with Ridley Scott, screenwriter Callie Khouri, Susan Sarandon, Brad Pitt, Michael Madsen, and composer Hasn Zimmer, among others.
Original Theatrical Featurette (5:23) - This archival featurette from 1991 focuses on the production of the film with clips from interviews with Ridley Scott, Geena Davis, and Susan Sarandon.
Extended Scenes (33:17) - The eight scenes are "Extended Ending", "Extended Ending - with Director's Commentary", "First Motel", "Talkin' 'Bout Darryl", "Hal on the Case", "Second Motel", "Thelma and J.D", and "Looking for a Break".
Ridley Scott: Storyboarding the Ending (5:50) - In this interview, Ridley Scott discusses creating storyboards for the film's final sequence.
Storyboards: The Final Chase (4:37) - Storyboards for the film's final sequence.
Deleted Scenes (14:02) - The 10 scenes are "Silver Bullet Getaway", "An Important Clue", "Police Sketches", "Smitten with J.D.", "Human Behavior", "Hal at Home", "Jimmy, J.D., and the Law", "Fear of God", "On the Road", and "Hot Pursuit".
Original Theatrical Trailer (2:02)
"Wanted" TV Spot (1:02)
"Call of the Wild" TV Spot (0:32)
TV Promo Spot (0:32)
Music Video (4:27) - The music video for Glenn Frey's "Part of Me, Part of You", which is included on the soundtrack for Thelma & Louise.
[ ADDITIONAL INFORMATION ]
An illustrated booklet featuring essays by critics Jessica Kiang and Rachel Syme, and journalist Rebecca Traister, as well as technical credits, is included loose inside the thick three-disc Digibook case, with the 4K disc on the left side, and the two Blu-ray discs overlapped on the right side.
[ NOTES ]
Thelma & Louise
is available on
3-Disc 4K UHD
and
2-Disc Blu-ray
. Either are HIGHLY RECOMMENDED for this definitive release of a classic female-empowerment film. Kudos to Criterion for another great job.
This item has been provided by the Criterion Collection for review on this site.
No feedback yet
Leave a comment