By Paul Rudoff on May. 15, 2023 at 7:00 PM in Home Video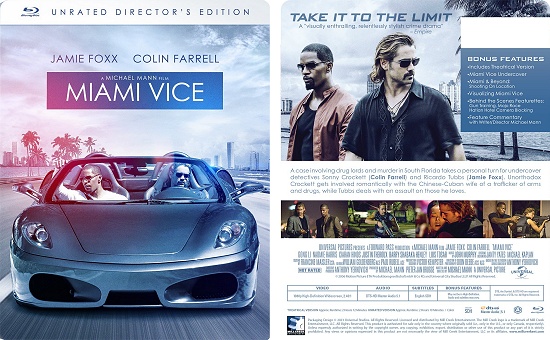 Mill Creek Entertainment recently released the
Miami Vice
(2006) Blu-ray (
exclusive to Walmart
). Read on to find out more about it...
[ SYNOPSIS ]
A case involving drug lords and murder in South Florida takes a personal turn for undercover detectives Sonny Crockett (Colin Farrell) and Ricardo Tubbs (Jamie Foxx). Unorthodox Crockett gets involved romantically with the wife of a trafficker of arms and drugs, while Tubbs deals with an assault on those he loves.
[ SPECIFICATIONS ]
The movie is presented in a 2.39:1 aspect ratio with a runtime of 2:12:10 for the Theatrical Cut, and 2:19:14 for the Unrated Director's Cut (
comparison
). The movie
has been rated
R for strong violence, language and some sexual content. Audio languages include English. Subtitle languages include English.
[ SPECIAL FEATURES ]
All of the content listed below can be found on the Blu-ray disc. Missing is the picture-in-picture content from Universal's original Blu-ray.
Audio Commentary - with director Michael Mann (on the Unrated Director's Cut only).
Miami Vice Undercover (13:02) - Dives into the process of teaching each of the actors the techniques for properly using a firearm and following police procedure.
Miami & Beyond: Shooting On Location (10:00) - A focus on the locations around Miami where the movie was filmed.
Visualizing Miami Vice (12:41) - The production process that the film went through.
Gun Training (2:46) - A quick look at training the actors to use firearms.
Hatian Hotel Camera Blocking (2:57) - Filming at the Hatian Hotel.
Mojo Race (4:29) - Filming the boat race.
Trailer (1:54)
[ ADDITIONAL INFORMATION ]
The big special feature of this release is the new Steelbook case. The front features Crockett and Tubbs in their sleek ride, while the back shows the duo in close profile.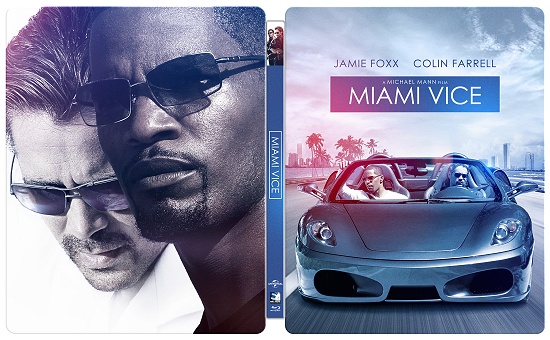 The inside is a nice two-page spread showing Tubbs on the left and Crockett on the right; with the words "NO LAW" and "NO ORDER" superimposed over them. It's a really beautiful case.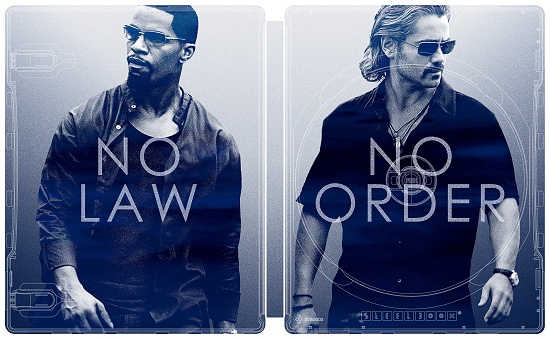 Miami Vice
(2006) is available in a new
Walmart Exclusive SteelBook Blu-ray
from Mill Creek. It is HIGHLY RECOMMENDED! As far as Amazon goes... If you want the additional picture-in-picture bonus features - a PiP commentary track; "Cast Bios & Production Photos" that provide casting information along with behind the scenes production photos; and a useless "Tech Specs/GPS System" that tracks cars, boats and planes on an on-screen map as the action unfolds in the main frame - you should also pick up
Universal's original Blu-ray release
. Don't forget to also pick up Mill Creek's release of the original 1984-1989 television series, which is available on
Blu-ray
and
DVD
.
This item has been provided by Mill Creek Entertainment for review on this site.
No feedback yet
Leave a comment