By Paul Rudoff on May. 16, 2023 at 7:00 PM in Home Video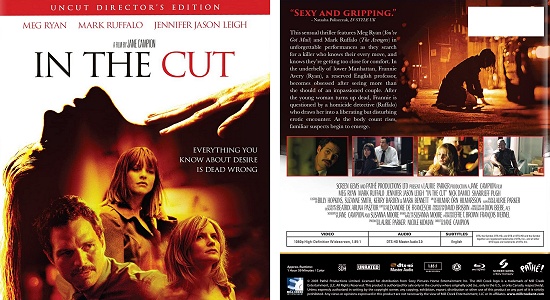 Mill Creek Entertainment recently released the
In The Cut (2003) (Uncut Director's Edition) Blu-ray
. Read on to find out more about it...
[ SYNOPSIS ]
In the underbelly of lower Manhattan, Frannie Avery (Meg Ryan), a reserved English professor, becomes obsessed after seeing more than she should of an impassioned couple. After the young woman turns up dead, Frannie is questioned by a homicide detective (Mark Ruffalo) who draws her into a liberating but disturbing erotic encounter. As the body count rises, familiar suspects begin to emerge.
[ SPECIFICATIONS ]
The movie is presented in a 1.85:1 aspect ratio with a runtime of 1:59:10 (and a Sony Pictures Television logo at the end). The original theatrical cut (not included here)
has been rated
R for strong sexuality including explicit dialogue, nudity, graphic crime scenes and language. (
Comparison between the Theatrical and Director's Cuts
.) Audio languages include English. Subtitle languages include English SDH.
[ SPECIAL FEATURES ]
There are no special features.
[ ADDITIONAL INFORMATION ]
No digital copy code voucher is included inside the standard one-disc blue Blu-ray case, nor is there a slipcover.
[ NOTES ]
The
Unrated Director's Edition
of
In The Cut
is available on
Blu-ray
and
DVD
. The
R-Rated Theatrical Cut
is only available on
DVD
. This is a very raw and gritty film, not at all titillating, which is unafraid to depict various acts of violence and sex in some detail. Not recommended to the timid, but bolder viewers may want to give it a look.
This item has been provided by Mill Creek Entertainment for review on this site.
No feedback yet
Leave a comment