By Paul Rudoff on May. 18, 2023 at 11:30 PM in Home Video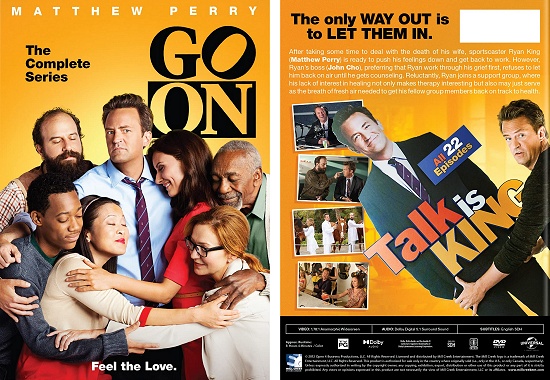 Mill Creek Entertainment recently released the
Go On: The Complete Series DVD
. Read on to find out more about it...
[ SYNOPSIS ]
After taking some time to deal with the death of his wife, sportscaster Ryan King (Matthew Perry) is ready to push his feelings down and get back to work. However, Ryan's boss (John Cho), preferring that Ryan work through his grief first, refuses to let him back on air until he gets counseling. Reluctantly, Ryan joins a support group, where his lack of interest in healing not only makes therapy interesting but also may just serve as the breath of fresh air needed to get his fellow group members back on track to health.
[ EPISODES ]
The three-disc set includes all 22 episodes of the season that aired on NBC from August 8, 2012 to April 11, 2013. What is quite surprising is that Mill Creek only put 7 or 8 episodes on each disc, which was the standard that the major studios used to use for 30-minute television programs. In the past, Mill Creek would have crammed 11 episodes onto each of two discs. I hope this is a sign that Mill Creek's future TV DVD sets will give the episodes room to breathe and not be crammed onto as few discs as possible.
DISC 1
01. "Pilot" (23:37)
02. "He Got Game, She Got Cats" (21:18)
03. "There's No 'Ryan' in Team" (21:27)
04. "Bench-Clearing Bawl" (21:22)
05. "Do You Believe in Ghosts ... Yes!" (21:14)
06. "Big League Chew" (21:30)
07. "Any Given Birthday" (21:30)
DISC 2
08. "Videogame, Set, Match" (21:29)
09. "Dinner Takes All" (21:31)
10. "Back, Back, Back... It's Gone!" (21:29)
11. "The World Ain't Over 'Til It's Over" (21:30)
12. "Win at All Costas" (21:27)
13. "Gooooaaaallll Doll!" (21:30)
14. "Comeback Player of the Year" (21:30)
DISC 3
15. "Pass Interference" (21:33)
16. "Go Deep" (21:33)
17. "Ring and a Miss" (21:33)
18. "Double Down" (21:34)
19. "Go for the Gold Watch" (21:29)
20. "Matchup Problems" (21:34)
21. "Fast Breakup" (21:26)
22. "Urn-ed Run" (21:32)
[ SPECIFICATIONS ]
The show is presented in a 1.78:1 aspect ratio in anamorphic widescreen. The show is Not Rated. Audio languages include English. Subtitle languages include English SDH.
[ SPECIAL FEATURES ]
There are no special features on the disc.
[ ADDITIONAL INFORMATION ]
No digital copy code voucher is included inside the standard one-disc block DVD case, nor is there a slipcover.
[ NOTES ]
I missed
Go On
when it first aired 10 years ago, but I found it quite pleasant and charming with an ensemble that includes Matthew Perry, John Cho, Laura Benanti, Julie White, Suzy Nakamura, Brett Gelman, Tyler James Williams, and Bill Cobbs. The lovely Piper Perabo guest stars for four episodes, and Khary Payton (Ezekiel on
The Walking Dead
and the voice of Cyborg on
Teen Titans
and
Teen Titans Go!
) appears in the Pilot. The
Go On: The Complete Series DVD
is HIGHLY RECOMMENDED.
This item has been provided by Mill Creek Home Entertainment for review on this site.
No feedback yet
Leave a comment