By Paul Rudoff on May. 19, 2023 at 4:00 PM in Home Video, Horror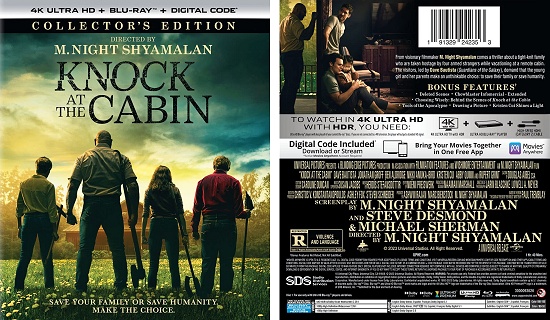 Universal Home Entertainment recently released the
Knock at the Cabin (2023) 4K UHD/Blu-ray
. Read on to find out more about it...
[ SYNOPSIS ]
A thriller about a tight-knit family who are taken hostage by four armed strangers while vacationing at a remote cabin. The visitors, led by Dave Bautista, demand that the young girl and her parents make an unthinkable choice: to save their family or save humanity.
[ SPECIFICATIONS ]
The movie is presented in a 2.39:1 aspect ratio with a runtime of 1:40:08. The movie
has been rated
R for violence and language. Audio languages include English, Spanish, and French. Subtitle languages include English SDH, Spanish, and French.
[ SPECIAL FEATURES ]
All of the content listed below can be found on both discs.
Deleted Scenes (5:35) - Included are "They Need Some Time", "Going to Church", "Enjoying the Sun", and "Leonard Explains".
Chowblaster Infomercial - Extended (1:10) - An extended cut of the TV informercial from the film that features an appearance by director M. Night Shyamalan.
Choosing Wisely: Behind the Scenes of Knock at the Cabin (23:37) - Examine what drew M. Night Shyamalan to adapt this terrifying story, and how the relationships between characters were unlike any this ensemble cast had ever played before.
Tools of the Apocalypse (5:03) - Explore the creation of some of the film's most terrifying props and learn why they play such an important role in the story.
Drawing a Picture (3:36) - See how M. Night Shyamalan envisions his shots in advance of ever turning on the camera, through his extensive use of storyboards.
Kristen Cui Shines a Light (3:46) - A closer look at actress Kristen Cui's dynamic performance as Wen in her film debut.
[ ADDITIONAL INFORMATION ]
A digital copy code voucher is included inside the standard two-disc black UHD case. The first print run includes an embossed slipcover.
[ NOTES ]
Knock at the Cabin (2023)
is available on
4K UHD
,
Blu-ray
, and
DVD
. Based on the book
"The Cabin at the End of the World"
by Paul Tremblay. From what I've read, the book has a different - and better - ending than the movie. Even though I never read it, I get the feeling that the book is better overall.
I really wanted to love the movie. The premise held a lot of promise, but the execution was poor. There is no real sense of tension to the drama. Perhaps if we were shown some backstory for the "visitors", we could really get behind what's going on. Instead, everything just seems so distant and cold. Although the movie is rated "R", there isn't much in the way of illustrated violence. Shyamalan filmed the movie in a very PG-13 manner - perhaps he was vying for that rating - as the camera cuts away before you ever see anyone being killed. Just like
Prom Wars (2008)
and
Air (2023)
before it, this is another film that, unfortunately, was given an "R" rating for language. In my opinion, language in and of itself, should never earn a film a "R" rating. The expected "M. Night Shyamalan Twist" never arrived; unless the "twist" was that there was no twist. The movie tells you exactly what will happen from the start. There are no surprises.
On a positive note, Dave Bautista gives a stellar performance, and cute little Kristen Cui is a highlight, even though her character brings little to the story. So, I would really suggest that you
watch the movie streaming for free on Peacock
if you're a Premium subscriber, or RENT IT from where ever you rent/stream movies, first to see if you'll like it before you buy the disc.
Universal provided some clips from the special features to check out:
Choosing Wisely: Behind the Scenes of Knock at the Cabin – Leonard
,
Behind the Scenes of Knock at the Cabin – Dave Bautista
,
Tools of the Apocalypse – Weapon Overview
, and
Kristen Cui Shines a Light
.
This item has been provided by Universal Home Entertainment for review on this site.
No feedback yet
Leave a comment