By Paul Rudoff on Sep. 28, 2023 at 10:30 PM in Home Video, Animation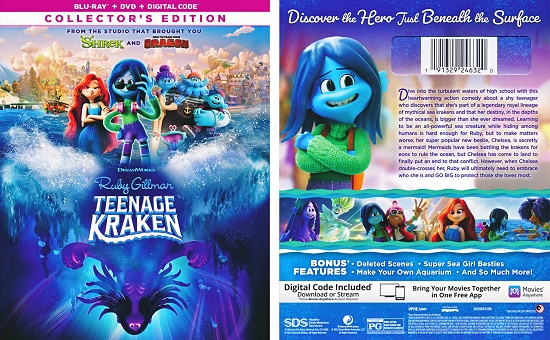 Universal/Dreamworks Home Entertainment recently released the
Ruby Gillman: Teenage Kraken (2023) Blu-ray
. Read on to find out more about it...
[ SYNOPSIS ]
Dive into the turbulent waters of high school with this heartwarming action comedy about a shy teenager who discovers that she's part of a legendary royal lineage of mythical sea krakens and that her destiny, in the depths of the oceans, is bigger than she ever dreamed. Learning to be an all-powerful sea creature while hiding among humans is hard enough for Ruby (Lana Condor), but to make matters worse, her super popular new bestie, Chelsea (Annie Murphy), is secretly a mermaid! Mermaids have been battling the Krakens for eons to rule the ocean, but Chelsea has come to land to finally put an end to that conflict. However, when Chelsea double-crosses her, Ruby will ultimately need to embrace who she is and GO BIG to protect those she loves most.
[ SPECIFICATIONS ]
The movie is presented in a 2.35:1 aspect ratio with a runtime of 1:31:12. The movie
has been rated
PG for some action, rude humor and thematic elements. Audio languages include English, Spanish, and French. Subtitle languages include English, Spanish, and French.
[ SPECIAL FEATURES ]
All of the content listed below can be found on the Blu-ray and DVD discs.
Audio Commentary - with director Kirk DeMicco, co-director Faryn Pearl, producer Kelly Cooney Cilella, head of character animation Carlos Fernandez Puertolas and head of cinematography, layout Jon Gutman.
Deleted Scenes (10:04) – Includes "Prologue", "Walk To School", and "Crab 'N Skate"; with introductions by co-director Faryn Pearl.
Squad Solidarity: Adventures in ADR (3:02) - A look at the cast recording their lines.
The Kraken: Myth or Monster (3:32) – In this animated piece narrated by Lana Condor and Annie Murphy, we dive deep into the mysteries of krakens and discover how stories of these mythical beasts have evolved over hundreds and hundreds of years.
Meet the Gillman Cast (9:03) - Meet the cast behind the film's characters and discover what they loved about lending their voices to this aquatic adventure.
The Kraken Krew: Meet The Humans Behind The Gillmans (9:58) - Getting to know the animators.
Prom Stories (4:37) – Ruby's greatest wish was to attend prom with her friends and crush Connor. Here, the cast of the movie share their own prom stories and explain how they would design a promposal.
Super Sea Girl Besties (5:05) – Meet the talented women involved in the making of the film.
Oceanside Drawing Guide (14:28) – Head of story, Glenn Harmon, will teach everyone how to draw "Ruby Gillman", "Kraken Ruby", "Grandmamah", "Chelsea Van Der Zee", and "Mermaid Chelsea".
Make Your Own Aquarium – With a few simple products and a little imagination, you can bring the undersea world into your own home. You can do craft projects for "Krakenarium" (7:47) and "Well of Seas" (2:49).
[ ADDITIONAL INFORMATION ]
A digital copy code voucher is included inside the standard two-disc blue Blu-ray case. The first print run includes an embossed slipcover.
[ NOTES ]
Ruby Gillman: Teenage Kraken (2023)
, not to be confused with the early 1990s ABC Afterschool special
Ruby Gilmore: Teenage Crackhead
, is available on
Blu-ray
, and
DVD
. (There is currently no 4K UHD release, but knowing Universal, expect for one to be released a year from now, as they did with
The Black Phone
and
M3gan
.)
I saw the trailers for this movie a few months ago, and thought it would be about the school life of a bunch of sea creatures. While there are some sea creatures and some school scenes, it's not that at all. It's a coming of age tale that focuses solely on Ruby, and her relationships with her mother, grandmother, and new "sea girl bestie" Chelsea. While I love female-focused movies, especially "cute girl movies", this one left me unsatisfied. I think it was because everything in the periphery - the school, Ruby's friends, all of the male characters (such as Ruby's father and brother) - are rather superfluous and could have been eliminated with little effect on the story. I also found it hard to believe that Ruby and her family are the only blue-skinned people in the town, and all of the humans
aren't
suspicious of their rather non-human appearance simply because they claim to be "Canadian". My Suspenders of Disbelief don't stretch
that
much.
Anyway, it's not a bad movie, just a bit disappointing. I do like the Ruby Gillman character, whom I hope is revealed to be Jewish in a future movie, and I thought Lana Condor did a good job voicing her. I would like to see more Ruby Gillman movies, as long as they have better stories.
This item has been provided by Universal/Dreamworks Home Entertainment for review on this site.
No feedback yet
Leave a comment