By Paul Rudoff on Sep. 29, 2023 at 10:30 PM in Home Video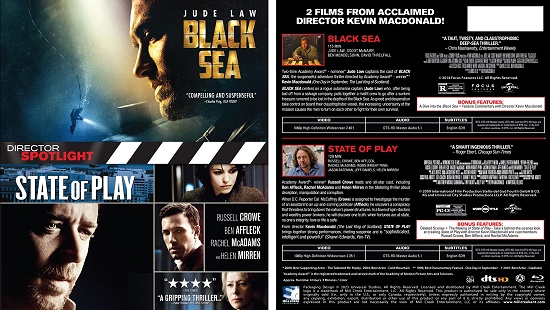 Mill Creek Entertainment recently released the
Director Spotlight: Kevin MacDonald Blu-ray
. Read on to find out more about it...
[ SYNOPSIS ]
Black Sea (2014)
- A rogue submarine captain (Jude Law) pulls together a misfit crew to go after a sunken treasure rumored to be lost in the depths of the Black Sea. As greed and desperation take control on board their claustrophobic vessel, the increasing uncertainty of the mission causes the men to turn on each other to fight for their own survival.
State of Play (2009)
- When D.C. Reporter Cal McCaffrey (Russell Crowe) is assigned to investigate the murder of an assistant to an up-and-coming politician (Ben Affleck), he uncovers a conspiracy that threatens to bring down the nation's power structures. In a town of spin-doctors and wealthy power brokers, he will discover one truth: when fortunes are at stake, no one's integrity, love or life is safe.
[ SPECIFICATIONS ]
Black Sea
is presented in a 2.40:1 aspect ratio with a runtime of 1:54:15. The movie
has been rated
R for language throughout, some graphic images and violence.
State of Play
is presented in a 2.35:1 aspect ratio with a runtime of 2:06:59. The movie
has been rated
PG-13 for some violence, language including sexual references, and brief drug content. Audio languages for both films include English. Subtitle languages for both films include English SDH.
[ SPECIAL FEATURES ]
All of the content listed below can be found on the Blu-ray disc.
BLACK SEA: Audio Commentary - with director Kevin Macdonald (starts at the 2:10 mark).
BLACK SEA: A Dive into the Black Sea (5:15) - A basic overview that covers plot, story origins, casting, character specifics, and shooting on a real sub.
STATE OF PLAY: Deleted Scenes (3:38) - A collection of character-centric deletions.
STATE OF PLAY: The Making of State of Play (18:44) - Focuses on the BBC miniseries and its adaptation into a feature film with interviews from the cast and crew.
[ ADDITIONAL INFORMATION ]
No digital copy code voucher is included inside the standard one-disc blue Blu-ray case.
[ NOTES ]
Director Spotlight: Kevin MacDonald
is available on
Blu-ray
only. Given its budget-release price and that Mill Creek ported over nearly all of the original DVD and Blu-ray extras, this release is recommended.
This item has been provided by Mill Creek Entertainment for review on this site.
No feedback yet
Leave a comment