By Paul Rudoff on Feb. 13, 2020 at 5:38 PM in Home Video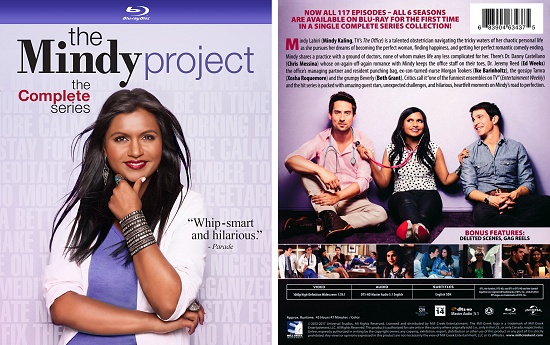 Mill Creek recently released
The Mindy Project: The Complete Series
(2012-2017) in a budget-priced Blu-ray box set. Read on to find out more...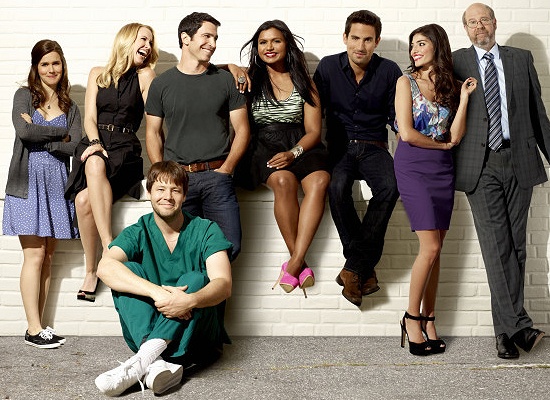 Dr. Mindy Lahiri (Mindy Kaling) is a talented obstetrician navigating the tricky waters of her chaotic personal life as she pursues her dreams of becoming the perfect woman, finding happiness and getting her perfect romantic comedy ending. Mindy shares a practice with three doctors, none of whom makes life any easier for her. There's Dr. Danny Castellano (Chris Messina) whose on-again-off-again romance with Mindy keeps the office staff on their toes, Dr. Jeremy Reed (Ed Weeks), the office's managing partner and resident punching bag, and Dr. Peter Prentice (Adam Palley), a high-fiving former frat boy, who knows nothing about the opposite sex, but insists on doling out relationship advice to Mindy. Rounding out the ensemble is ex-con-turned-nurse Morgan Tookers (Ike Barinholtz), the gossipy Tamra (Xosha Roquemore) and the grumpy Beverly (Beth Grant).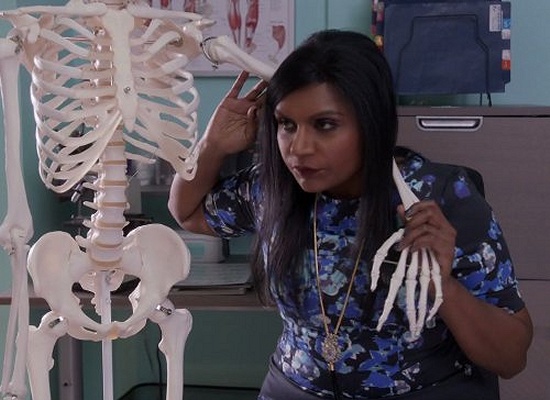 At its heart,
The Mindy Project
is a romantic comedy, which is apparent from the very first episode (the pilot), which plods through various tropes of the genre, with lots of scenes from genre classics
When Harry Met Sally
,
You've Got Mail
, and
Notting Hill
. Thankfully, the pilot is not indicitive of what the series is like as a whole. Starting with the second episode, the series finds its footing as part romantic comedy, part workplace comedy, part ensemble comedy, and part honest raunch comedy. It's the way that star and creator Mindy Kaling crafts all of these elements together, and the entire cast plays off of her, that makes the series work. I rarely find myself laughing out loud at most TV comedies these days, but I chuckled constantly with every episode. The show is light, but it's fun and funny, and that's what is most important.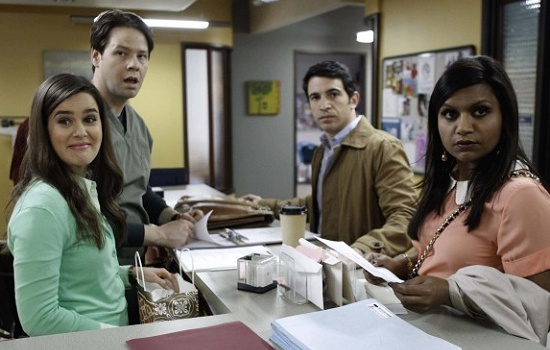 I was also surprised by a few things I found just in the first season. Ghostheads will find a
Ghostbusters reference
in the seventh episode, "Teen Patient", when Mindy's frame of reference for the teen "slime" fad is Ghostbusters. The East Pavillion hospital stock footage, that I wrote
a Shot on Site article about
, appears at the start of the Season 1 episodes "Two To One" and "Hooking Up Is Hard".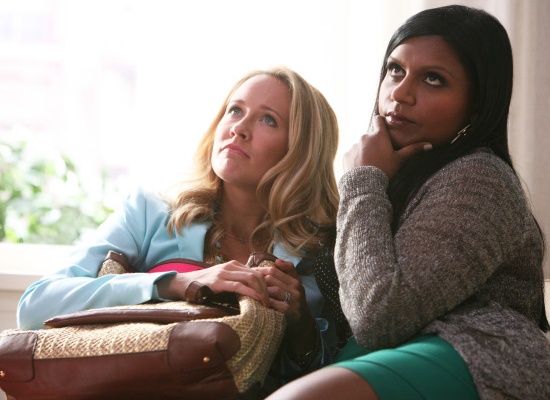 This box set contains all 6 seasons of the show, consisting of a total of 117 episodes, on ten discs. The first four seasons are on two discs each, with each disc containing 11 to 13 episodes. Seasons 5 and 6 are on one disc each, with Season 5's disc containing all 13 episodes, and Season 6's disc containing all 10 episodes. Episodes are roughly 21:40 each for the first three seasons, and various longer lengths for the last three seasons (which were on Hulu, not Fox).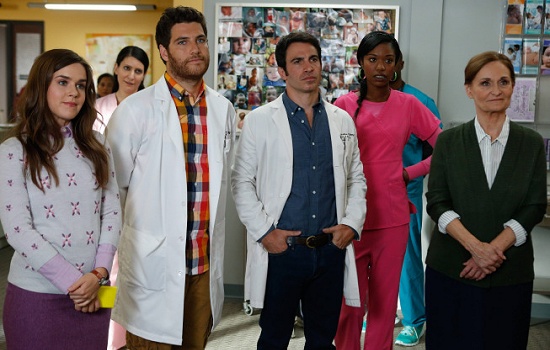 The Mindy Project
is presented in its original 1.78:1 aspect ratio. There is only an English DTS-HD Master Audio 5.1 audio track for all episodes, as well as English subtitles. Bonus features are limited to Deleted Scenes and Gag Reels, spread throughout the set as such:
Disc 1 - Deleted Scenes - Individual groups of scenes from the episodes "Hiring and Firing" (3:29), "Halloween" (3:21), "Danny Castellano Is My Gynecologist" (0:47), "Josh and Mindy's Christmas Party" (0:48), "Bunk Bed" (2:25), and "Hooking Up Is Hard" (0:43).
Disc 2 - Deleted Scenes - Individual groups of scenes from the episodes "Harry & Sally" (1:22), "Danny's Friend" (1:53), and "Frat Party" (0:38).
Disc 3 - Deleted Scenes - Individual groups of scenes from the episodes "All My Problems Solved Forever..." (1:22), "The Other Dr. L" (4:15), "Music Festival" (0:56), "Magic Morgan" (2:07), "Wiener Night" (1:37), "Bro Club for Dudes" (4:31), "Sk8er Man" (1:19), "You've Got Sext" (1:40), "Mindy Lahiri Is a Racist" (1:01), "Wedding Crushers" (1:15), and "Christmas Party Sex Trap" (1:16).
Disc 4 - Deleted Scenes - Individual groups of scenes from the episodes "Danny Castellano Is My Personal Trainer" (1:37), "L.A." (3:57), "The Desert" (2:12), "French Me, You Idiot" (1:53), "Indian BBW" (1:43), "Girl Crush" (2:04), "Think Like a Peter" (1:10), "An Officer and a Gynecologist" (2:51), "Girl Next Door" (0:29), and "Danny and Mindy" (2:12).
Disc 4 - Gag Reel (12:00) - Presumably for Season 2.
Disc 7 - Deleted Scenes - Individual groups of scenes from the episodes "Leo Castellano Is My Son" (2:23), "The Departed" (0:38), "The Lahiris and the Castellanos" (1:12), and "When Mindy Met Danny" (0:33).
Disc 8 - Deleted Scenes - Individual groups of scenes from the episodes "Will They or Won't They" (2:05), "2 Fast 2 Serious" (1:51), "Bernardo & Anita" (1:38), "Baby Got Backslide" (1:33), "There's No Crying in Softball" (0:33), and "My Kid Stays in the Picture" (1:02).
Disc 8 - Gag Reel (14:46) - Presumably for Season 4.
The 10 discs are stored in a thick blue plastic case, with each disc on it's own "page" with no overlap. That case is stored in a paperboard outer side-loading slipbox. This is a VAST improvement over the cheap paperboard sleeves Mill Creek uses for their DVD box sets.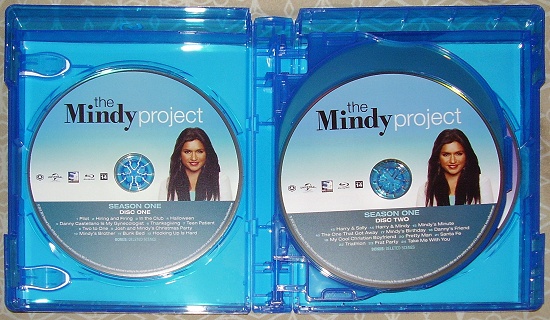 The Mindy Project: The Complete Series
is available on
Blu-ray
and
DVD
. Either set is recommended, but Blu-ray is preferred since the show was shot on digital in HD.
All images were taken from the
IMDB gallery
of the show. This item has been provided by Mill Creek Entertainment for review on this site.
No feedback yet
Leave a comment