By Paul Rudoff on May. 5, 2021 at 11:48 PM in Miscellaneous, Filming Locations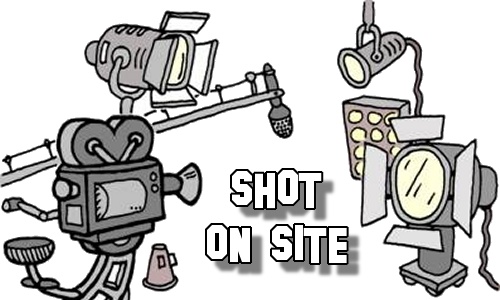 A few years ago, I wrote an article about the widely-used
East Pavilion Hospital stock footage
. I have another piece of stock footage to write about. Read on to learn more...
Unlike the hospital, this isn't about a location. This is about the footage itself. The footage features two white guys in casual clothes firing guns during a riot. It looks like it was filmed back in the 1980s or 1990s. I think that it is real news footage and isn't two actors pretending to be rioters.
So far, I have only seen the footage appear in two films. But that was enough for me to want to write this article. I'm 100% positive that I'm the first person to notice that this footage was used in both movies. The first movie is George A. Romero's
Diary of the Dead
(2007). It appears at 35:47 in a montage showing the start of the zombie apocalypse.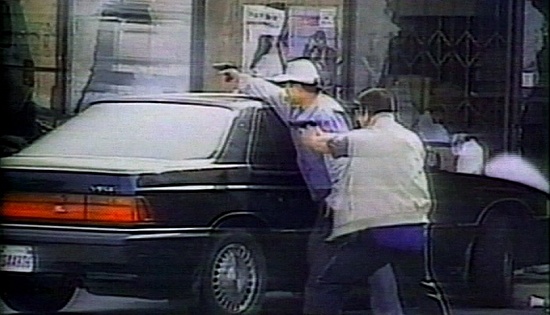 (click to enlarge)
Six years later, you'll see the footage in
The Purge
(2013). It appears at the start of the movie (at the 1:38 mark) as part of a montage showing Purge events throughout the years. Here, it is supposed to be from a Purge in Sioux Falls, South Dakota on March 22, 2017. The filmmakers tinted it green and added scan lines to make it look like closed circuit TV footage.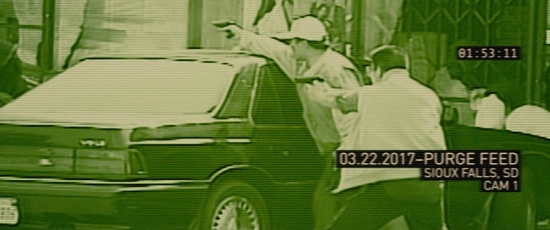 (click to enlarge)
Unfortunately, I have no information on the footage itself. If any of you knows when and where the footage was actually filmed, please post a comment below. I would love to know what we're actually looking at here. If you know which stock footage library it comes from, that would be great to know, too. Also, if you've seen it pop up in another movie or television show, please post a comment about that, too.
No feedback yet
Leave a comment