By Paul Rudoff on May. 13, 2021 at 11:50 PM in Home Video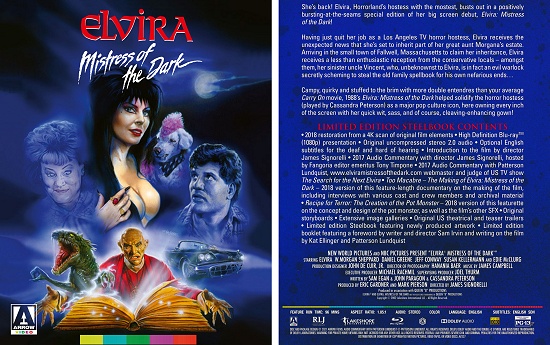 In 2018, Arrow Films released the 1988 cult classic
Elvira: Mistress of the Dark
onto Blu-ray, but it was exclusive to the United Kingdom (Region B). Two weeks ago, Arrow re-released it for the United States (Region A), in both
Steelbook
and
normal packaging
. Read on to find out more about it...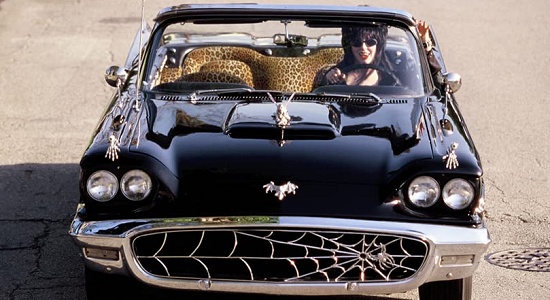 Elvira: Mistress of the Dark
(1988) is the big screen debut of Elvira (Cassandra Peterson), Horrorland's hostess with the mostest. Having just quit her job as a Los Angeles TV horror hostess, Elvira receives the unexpected news that she's set to inherit part of her great aunt Morgana's estate. Arriving in the small town of Falwell, Massachusetts to claim her inheritance, Elvira receives a less than enthusiastic reception from the conservative locals - amongst them, her sinister uncle Vincent Talbot (W. Morgan Sheppard), who, unbeknownst to Elvira, is in fact an evil warlock secretly scheming to steal the old family spellbook for his own nefarious ends.
Elvira: "There's nothing wrong with G-rated movies, as long as there's lots of sex and violence."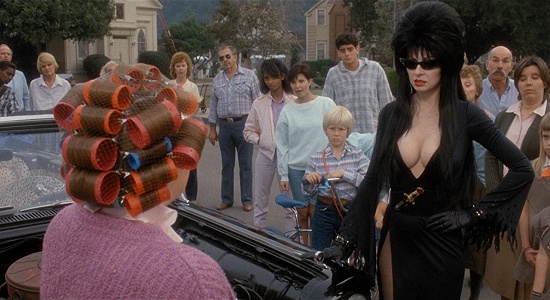 I first watched
Elvira: Mistress of the Dark
back on television in the early 1990s on NBC, though I did own the
Marvel magazine-size comic book adaptation
when I was a kid. Watching this Blu-ray was my first viewing of the film in 20 years and, I have to say, it still holds up pretty well. It's one of the best horror-comedies in the tradition of the films of Abbott & Costello and Don Knotts, only stuffed to the brim with double entendres and double D's.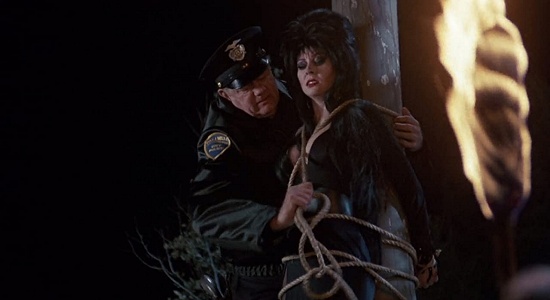 If you're unfamiliar with the Elvira character, her persona is kind of a combination of Valley Girl inanities and Mae West double entendres. If you look at Elvira with 2021 glasses, you'd think that's she's an exploitative character. Actually, Cassandra Peterson is exploiting herself with the character, which makes her a feminist icon, if you ask me. Elvira is an independent woman who doesn't need a man to define her, though she certainly likes to have fun with one every now and again. She is not afraid to be sexual, but it's quite clear that she's in charge of her sexuality. This film is a better "female empowerment movie" than most of what Hollywood is putting out these days.
Elvira: "Just because this house is up for grabs doesn't mean *I* am."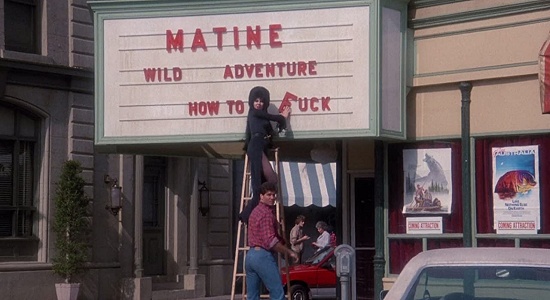 The film is very campy with lots of "mom jokes" (that's the female equivalent of "dad jokes", right?). Some of the humor is groan-inducing, for sure, but I found myself laughing more at this film than I did at
Ghostbusters (2016)
. A few of my favorite jokes and one-liners are sprinkled throughout this review. Some jokes, like "How's your head?" are subtle and will go over the heads of some, others not so much. The script by Cassandra Peterson, Sam Egan, and John Paragon isn't very subtle in naming things. The town where the repressed citizens live is named Falwell, after popular (at the time) televangelist
Jerry Falwell
. The town snob, played by Edie McClurg, is named Chastity Pariah; while The Meekers are also on the council.
[something falls on Elvira's head]
Bob: "How's your head?"
Elvira: "I haven't had any complaints yet."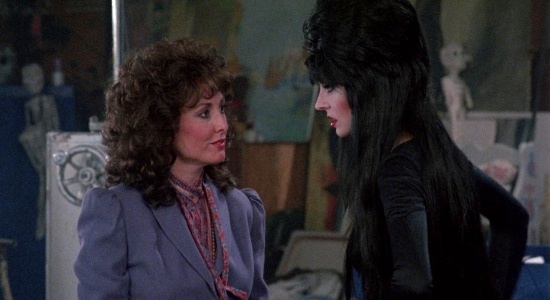 The cast includes many of Cassandra Peterson's friends from The Groundlings comedy troupe. In addition to McClurg, there's also co-writer John Paragon, who appears as a gas station attendant. You may remember him as Jambi the genie on
Pee-Wee's Playhouse
, or from his cameo in
Weird Al Yankovic's "Ghostbusters" music video parody
. Paul Rubens, who created the Pee-Wee Herman character while at the Groundlings, was set to make a cameo to repay Cassandra for her cameo in
Pee-Wee's Big Adventure
, but he was too busy filming
Big Top Pee-Wee
. Another Groundlings alum is Tress MacNeille, who is the news anchor at the television station at the beginning of the film. She would go on to great acclaim providing voices for various animated series, such as Babs Bunny on
Tiny Toon Adventures
, Dot Warner on
Animaniacs
, and various secondary voices on
The Simpsons
. Her
Animaniacs
"brother" Jess Harnell (Wakko Warner) sings the song "Town Without Pity", played in the background during the scene in which Elvira tries to find a job in town.
Jess Harnell - Town Without Pity
A few bit players from other horror movies are also on hand. You may recognize Ira Heiden (
A Nightmare on Elm Street 3
's wheelchair-bound dream master Will) as Bo, and Susan Kellermann (
Beetlejuice
's Grace) as Patty. Furthermore, William Duell,
Police Squad
's shoe shine guy Johnny is Mr. Lesley Meeker.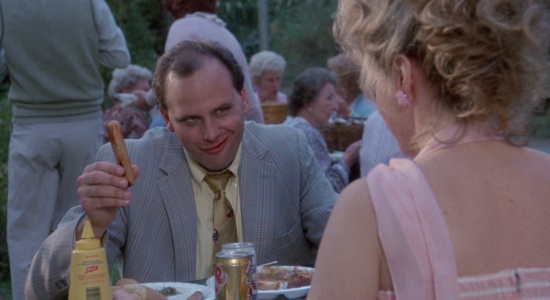 One surprise cast member - because I honestly didn't remember him being in the film - is Kurt Fuller. He plays the sleezeball real estate agent, Harold Glotter. Kurt was really good at playing assholes and sleezeballs in the late 1980s. See also
Ghostbusters II
and
No Holds Barred
. He's not the only Ghostbusters connection present here. The film's production designer is John DeCuir Jr, who was the art director on
Ghostbusters
. His father, John DeCuir, was the production designer on
Ghostbusters
. Mark Bryan Wilson, who was in the Stay Puft Marshmallow Man costume, appears in the Blu-ray featurettes. Finally, I should mention that
Extreme Ghostbusters
made a reference to Elvira in the
episode "Sonic Youth"
.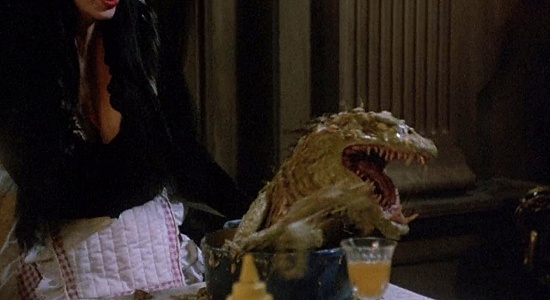 The picture quality on this Blu-ray is beyond excellent. There are no real flaws to speak of. The movie is bright with vibrant colors. According to the insert booklet,
Elvira: Mistress of the Dark
has been exclusively restored by Arrow Films and is presented in its original aspect ratio of 1.85:1 with stereo audio. An original 35mm interpositive was scanned in 2K resolution at Deluxe/EFilm, Burbank. The film was graded on Digital Vision's Nucoda Film Master and restored at R3Store Studios in London. The original stereo mix was remastered by Lakeshore Entertainment. All materials for this restoration were made available by Mike Lechner/Lakeshore Entertainment."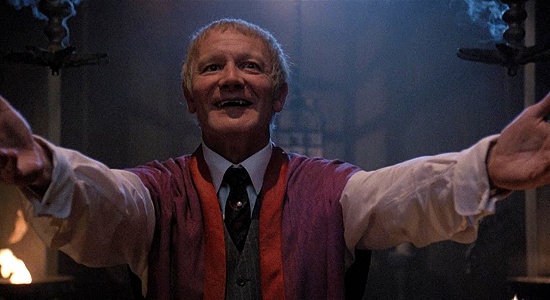 Elvira: Mistress of the Dark
is presented in a 1.85:1 aspect ratio with a runtime of 1:36:16. Audio languages include English LPCM 2.0 Stereo. The film includes English SDH subtitles.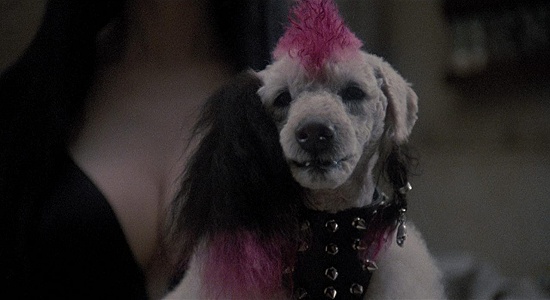 Here's a list of all of the bonus features that can be found on the Blu-ray disc.
Audio Commentary - by Cassandra Peterson, Edie McClurg, and John Paragon, recorded in 2012.
Audio Commentary - by director James Signorelli, hosted by Fangoria editor emeritus Tony Timpone, recorded in 2016 or 2017.
Audio Commentary - by Elvira's official site webmaster Patterson Lundquist, recorded in 2016 or 2017.
Introduction by director James Signorelli (1:10)
Too Macabre - The Making of Elvira: Mistress of the Dark (1:37:04) - A newly-revised 2018 version of this feature-length documentary on the making of the film, including interviews with various cast and crew and rare never-before-seen archival material.
Recipe for Terror: The Creation of the Pot Monster (22:13) - A newly-revised 2018 version of this featurette on the concept and design of the pot monster, as well as the other SFX of the movie.
Image Galleries (each image individually chaptered):
- Production Stills (14:40)
- Behind the Scenes (5:10)
- SFX (11:10)
- Original Storyboards (4:31)
- New York Premiere (1:10)
- Miscellaneous (1:30)
Original US Theatrical Trailer (1:49)
Original Teaser Trailer (1:05)
This is a great amount of extras, and a vast improvement over previous U.S. releases on DVD and Blu-ray. However, I'd be remiss if I didn't point out that,
according to DVD Compare
(and
additional research
), the
German Blu-ray from Nameless
contains these additional extras:
MISSING: Archival 2012 Interview with Cassandra Peterson (11:46)
MISSING: Vintage 1988 Making Of Featurette (12:18)
MISSING: Mark Pierson Explains the Macabre Mobile (2:08)
MISSING: Eric Gardner's Studio Set Tour (2:21)
MISSING: Eric Gardner Talks About Pre-Production (3:39)
MISSING: Bally Pinball Video Tour: Elvira and the Party Monsters (3:02)
MISSING: Bally Pinball Video Tour: Scared Stiff (2:44)
MISSING: Original Script Slideshow (15:49)
MISSING: Original US Press Kit Slideshow (10:23)
It really would have been great if Arrow would or could have included ALL of that content, so that this Blu-ray could be the definitive complete release. There's also a French Blu-ray by Bach Films that includes four exclusive extras, though three of them seem completely unrelated to the film: "The Devil in Gore" (53:44), "Interview with Lloyd Kaufman" (4:30), "The Devil's Chords" (6:36), and "Elvira at Cannes" (2:19). Furthermore, it is well known that there are some deleted scenes, such as one revealing the fate of the three council members who were turned into pigs. Arrow's Blu-ray includes a photo from that scene showing Edie McClurg and Kurt Fuller naked in a pig sty. Boy, would it have been great to include that scene!
Elvira: "If they ever ask about me. Tell them I was more than just a great set of boobs. I was also an incredible pair of legs."
This Blu-ray is an upgrade, for me, from
Anchor Bay's 2001 DVD
. Of course, the movie's picture quality on the Blu-ray is a major step up from the DVD. The DVD includes a Cassandra Peterson biography and a liner booklet featuring an essay by Andy Mangels, whom I worked with in 2008 on
TimeLife's The Real Ghostbusters DVD box set
. The booklet also includes a reprint of the original theatrical poster. I wish Arrow would have included the poster and essay in their booklet; especially the poster. For those of you who don't have that 20-year-old DVD, I have taken the liberty of scanning in the booklet and screencapping the biography. You can view all of that on
The Corner Penthouse Facebook page
. I've also transcribed the essay text on
page 2
of this review.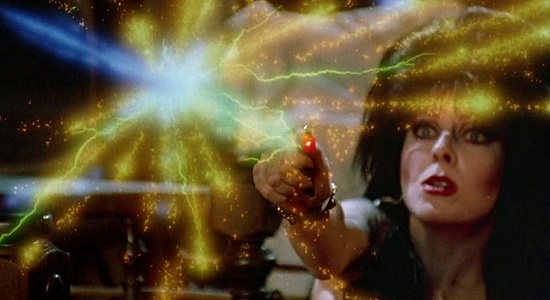 Anchor Bay's 2001 DVD also includes the same Teaser and Trailer that can be found on Arrow's Blu-ray. Arrow's disc has the Teaser is better quality, but the same can't be said for the Trailer. I don't know where Arrow got their copy of the Trailer from, but the quality is absolutely horrible. Below are some comparisons between the Trailer on the DVD (TOP) and the Blu-ray (BOTTOM). Click on them for enlargements. As you can see, the DVD's Trailer looks perfect, while the Blu-ray's Trailer is either extremely dark or has had the contrast turned up WAY too high. For the benefit of all, I ripped the trailer from the DVD and uploaded it to the
Internet Archive
so you can
download the 70MB MKV file
.
Also included in the Steelbook release is a limited edition 35-page booklet featuring a cast and crew list, a foreword by Sam Irvin, "The Evolution of the Living Dead Girl: Elvira and the Women Who Made Her" by Kat Ellinger, "More Than Just a Great Set of Boobs..." by Patterson Lundquist, and some notes about the restoration.
(click to enlarge)
The Steelbook packaging features newly-produced artwork by an unknown artist. (There is no credit given to him/her anywhere that I can find.) The front cover features a beautiful drawing of all of the main characters and elements. The back cover features the "Weird Romance" tattoo graphic from the trailer. Inside, under the booklet and disc, is a sexy photo of Elvira in bed spread across both sides.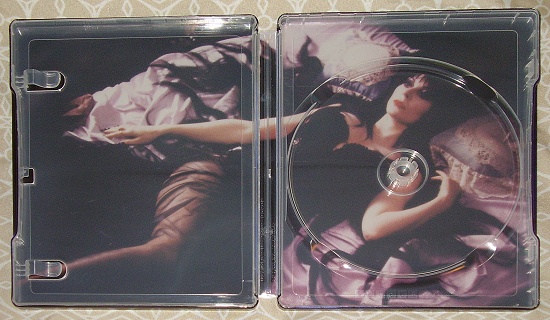 (click to enlarge)
Arrow Films'
Elvira: Mistress of the Dark
Blu-ray is available in
Steelbook
and
normal packaging
. Either release is HIGHLY RECOMMENDED! The sequel,
Elvira's Haunted Hills
(2001), is only available on DVD, though there are two releases. The
first release from GoodTimes
, contains a few bonus features and an anamorphic widescreen transfer. The newer
"Special Enhanced Edition" from E1 Entertainment
improves upon the Goodtimes DVD by adding a commentary, a "Transylvania or Bust: Elvira & Company Tell All" featurette, and some outtakes. While you're at it, pick up this really cool
Official Elvira Ceramic Salt & Pepper Shakers Bust
. If you have some extra money to spare, you can also buy the
vintage Marvel magazine-size comic book adaptation
from an Amazon Marketplace seller.
Elvira: "It'll be a guaranteed standing ovulation!"
Trailer
(sourced from Arrow's Blu-ray)
Audio clips were either recorded by me, or came from
Soundboard.com
and
Clip Cafe
. All images were taken from the
IMDB gallery
of the film. This item has been provided by Arrow Films for review on this site.
Click to page 2 to read the Andy Mangels essay from the 2001 Anchor Bay DVD.
Pages: 1· 2
1 comment
Comment
from:
Stuart McPherran
[Visitor]
May. 24, 2021 @ 01:24
Leave a comment