By Paul Rudoff on Jun. 22, 2021 at 11:00 PM in Public Service Articles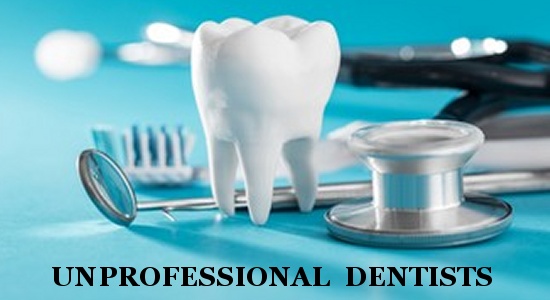 When you're poor or low-income, and have to rely on government-provided medical insurance ("Medicaid" and/or "Medicare"), you don't have the greatest choices for medical care. You will, usually, NOT have access to the best doctors and treatments in any given medical field. Compounding the problem is the fact that I was forced to move at the end of December 2012 due to
Hurricane Sandy destroying my former home
, resulting in me having to find new doctors that are closer to my new home. In the 8.5 years that I've been living in Valley Stream, New York, I have had four different dentists. Now it will be five. Read on to find out more...
When I was living in my former residence in East Rockaway, I was going to
Great Expressions
in Oceanside. It wasn't the closest to my house, but they took my insurance, and they provided EXCELLENT service. Unfortunately, my new home in Valley Stream made that location too far away for someone who, like me, has to walk or use public transportation. Even if I were willing to take a train and then walk a great distance, or take multiple buses, to remain there, it would be rather moot because they would stop taking my insurance in 2016/2017...but I'm getting ahead of myself.
In 2013, I started looking for a dentist that was close to my new Valley Stream home. I cold-called all that I could find in the "yellow pages" located in Valley Stream. I found one a mere three blocks away:
Luxury Dental
(formerly at 171 Rockaway Avenue). The place was run by a bunch of nice Russian people, but it seemed like the hygienists were a bunch of immigrated trainees. They were particularly rough and on one occasion, triggered convulsions in me while doing a cleaning. I felt that I could find a dental office that was much more gentle and sensitive to my needs, so I looked into one of the other dentists from my cold-call list.
In 2014 and 2015, I saw
Isaac Pearlman
(41 West Merrick Road, 516-872-2168). He started out great, and seemed gentle and caring. Unfortunately, as my time with him progressed, things got worse and worse. On one visit, he broke a filling while doing a routine cleaning. I think he purposely broke it so as to add more to his bill because he previously mentioned that he wanted to replace that filling. I'm of the mind that if something isn't causing me any harm, then it's to be left alone, so I had no interest in screwing around with the filling. In 2015, due to his neglect, one of my teeth got infected. While he gave me medicine to treat the swelling and pain, he laughed off the fact that he caused it in the first place. This was the final straw. Without a doubt, Isaac Pearlman is the worst dentist I have seen in my life!
At this point (2016), I decided that it might be in my best interest to put up with some lengthy traveling and go back to
Great Expressions
in Oceanside. Well, they weren't in Oceanside anymore.
Great Expressions
was now in East Rockaway (at 112 Main Street, 516-210-6084). Why couldn't they be in East Rockaway when I lived in East Rockaway?!? Anyway, the dentist there was great, as were the hygienists. Unfortunately, after a few visits, they informed me that they were no longer accepting Medicaid anymore. Time to find a new dentist, yet again!
It's now July 2017 and I cold-call all of the local dentists again. This time there was a new contender that wasn't on the scene back in 2013:
Central Avenue Dental
(Dr. Alevtina Edgar & Dr. Igor Ilyabayev, 139 North Central Avenue, 516-887-0020). Although the dentists and hygienists were not perfect, and not as caring about my special dental needs as I would have liked, I was able to tolerate them...and not just because I had no other local alternatives. My last visit was in December 2020 for a routine cleaning, and I was all set to go there again for another cleaning on June 24, 2021. I received a call from the Valley Stream office (516-887-0020) on June 22nd at 12:31 PM to confirm the appointment. An hour later, at 1:32 PM, I got a call from their New York City office (212-571-0033) to say that as of the day before, they are no longer accepting Medicaid!
Yes, TWO DAYS BEFORE MY APPOINTMENT THEY CALLED TO TELL ME THEY WERE NO LONGER ACCEPTING MY MEDICAL INSURANCE!!! That is highly unprofessional, and completely inconsiderate. They should have called or mailed me a letter a month or two earlier. The more professional and caring thing to do is either accept Medicaid one time for the patients who already have appointments booked, or -BETTER YET- keep accepting Medicaid for your existing patients and no longer accept it for new patients. Either of those two options would have shown that Central Avenue Dental cares about their patients. Instead, their actions prove that Central Avenue Dental cares more about money than patients!
There are no other dentists in Valley Stream that accept Medicaid, aside from (maybe) Isaac Pearlman; and I would rather let all of my teeth fall out than go back to him. When I last cold-called dentists back in 2017, there were one or two in neighboring towns that accepted Medicaid. It looks like I'm gonna have to make travel arrangements and hope that one of these out-of-towners is good and keeps accepting Medicaid.
This is why it sucks to be poor. The last time I checked, there are one or two dozen dentists in Valley Stream. Almost none of them accept Medicaid now. The government provides you with medical insurance, but what good is it if almost no one takes it? If anyone is interested in fixing the broken U.S. medical system, start by enacting a law to force all doctors and medical providers to accept all government-issued insurance plans.
No feedback yet
Leave a comment