By Paul Rudoff on Aug. 6, 2021 at 12:00 PM in Home Video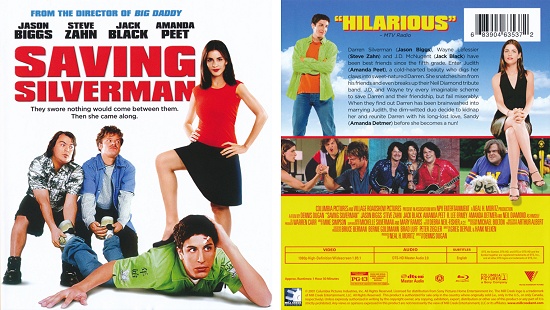 Saving Silverman (2001)
was recently released on Blu-ray by Mill Creek Entertainment. Read on to find out more about it...
[ SYNOPSIS ]
Darrn Silverman (Jason Biggs), Wayne Lefessier (Steve Zahn), and J.D. McNugent (Jack Black) have been best friends since the fifth grade. Enter Judith (Amanda Peet), a cold-hearted beauty who digs her claws into sweet-natured Darren. She snatches him from his friends and even breaks up their Neil Diamond tribute band. J.D. and Wayne try every imaginable scheme to save Darren and their friendship, but fail miserably. When they find out Darren has been brainwashed into marrying Judith, the dim-witted duo decide to kidnap her and reunite Darren with his long-lost love, Sandy (Amanda Detmer) before she becomes a nun!
[ QUICK THOUGHTS ]
Okay, this isn't exactly a great comedy. Honestly, I don't think I even laughed once, but I wasn't bored with it, so it's not entirely bad. It has a cast of talented actors, including R. Lee Ermey in a scene-stealing role, and the adorable Amanda Detmer as the most unbelievable nun-in-training you'll ever see. The only real issues I had with the movie are the same ones I had with
Bringing Up Baby
. Characters are allowed to do things that no sane person would be able to get away with because the world they live in is unrealistic. R. Lee Ermey breaks the guys out of jail by breaking the wall down with a very conspicuous truck, and the police don't follow them! No siren, cop car, or officer is seen or heard! Immediately following this, the guys kidnap Neil Diamond from a theater by simply going though the back door and carrying him out in a sack. There's no security or anything. They just walk in and walk right out. The humor that the main characters are trying to pull off only works when the world around them is playing it straight. If the whole world is unrealistic, then it all falls apart.
[ SPECIFICATIONS ]
The movie is presented in a 1.85:1 aspect ratio with a runtime of 1:36:21. Audio languages include English (DTS-HD Master Audio 2.0). Subtitle languages include English.
Despite saying PG-13 on the back cover, and showing the PG-13 logo before the movie,
THE BLU-RAY ACTUALLY CONTAINS THE R-RATED CUT
. However, it is using the PG-13 cut's subtitles. This is why there are a few instances where the subtitles don't match the dialogue being spoken. For example, Jack Black saying "hot piece of ass", while the subtitle reads "succulent peach".

Another instance is Jack Black saying "Fuck you, replacement friend", while the subtitles read "Die, replacement friend". There are other instances of dialog differences between the audio and subtitles due to
changes in the two cuts
.

[ SPECIAL FEATURES ]
There are no special features at all. The
original 2001 DVD release by Columbia Tristar Home Video
contained a few special features, and Easter Eggs, which have not been ported over to this Blu-ray. The PG-13-rated Theatrical Cut is not present on this Blu-ray, either.
[ ADDITIONAL INFORMATION ]
No Digital Copy code or slipsleeve is included.
[ PURCHASE LINKS ]
The R-rated Cut of
Saving Silverman
is available on
Blu-ray
from Mill Creek. You can buy the
PG-13-rated Theatrical Cut on DVD
from Columbia Tristar Home Video, which will also give you a
director's commentary
, outtakes, a trailer, and
two Easter Eggs
. There is no point in buying the
R-rated Cut DVD
, as it contains the same special features, and you'll already have that cut in high-definition on the Blu-ray. In short: Put Mill Creek's Blu-ray and the CTHV PG-13 DVD into a 2-disc Blu-ray case and you'll have the complete package, and your own custom "Combo Pack".
This item has been provided by Mill Creek Entertainment for review on this site.
No feedback yet
Leave a comment