By Paul Rudoff on Aug. 7, 2021 at 12:00 PM in Home Video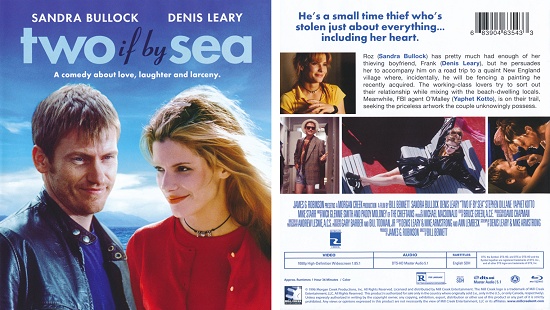 Two If By Sea (1996)
was recently released on Blu-ray by Mill Creek Entertainment. Read on to find out more about it...
[ SYNOPSIS ]
Roz (Sandra Bullock) has pretty much had enough of her thieving boyfriend, Frank O'Brien (Denis Leary), but he persuades her to accompany him on a road trip to a quaint New England village where, incidentally, he will be fencing a painting he recently acquired. The working-class lovers try to sort out their relationship while mixing with the beach-dwelling locals. Meanwhile, a federal agent, O'Malley (Yaphet Kotto), is on their trail, seeking the priceless artwork the couple unknowingly possess.
[ QUICK THOUGHTS ]
Two If By Sea
is a cute romantic comedy starring Sandra Bullock and Denis Leary, who are reunited after appearing together in
Demolition Man (1993)
. It's an enjoyable film when you're in the mood for something light, and it's always nice to see Sandra Bullock and Yaphet Kotto. I was put off by Sandra's unconvincing Boston accent, and it felt like Roz and Frank were in the house for much longer than two days, but otherwise I liked the film.
[ SPECIFICATIONS ]
The movie is presented in a 1.85:1 aspect ratio with a runtime of 1:35:54. Audio languages include English (DTS-HD Master Audio 5.1). Subtitle languages include English. Do note that the subtitles are off sync with the video about half of the time. The Warner Brothers logo is present at the start and end of the film.
[ SPECIAL FEATURES ]
Here is a list of the special features that are included on the disc.
Theatrical Trailer (1:59) - Presented in 4:3 Fullscreen.
[ ADDITIONAL INFORMATION ]
No Digital Copy code or slipsleeve is included.
[ PURCHASE LINKS ]
Two If By Sea
is available on
Blu-ray
.
This item has been provided by Mill Creek Entertainment for review on this site.
No feedback yet
Leave a comment