By Paul Rudoff on Oct. 11, 2021 at 12:00 PM in Wrestling, Home Video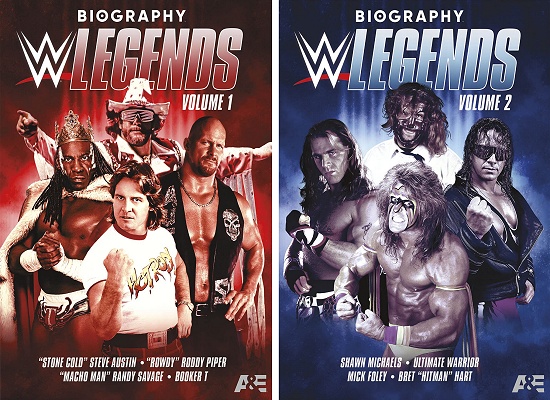 The
Biography: WWE Legends
Volume 1
and
Volume 2
DVDs were recently released by Lionsgate. Read on to find out more about them...
(
IMPORTANT NOTE:
The original release of Volume 1 had the Volume 2 discs inside. This happened not just with the review copies sent out to members of the press, such as myself, but also with the copies that were sent out to the general public, as Amazon reviews confirm. Lionsgate sent me a new copy with the correct discs inside a few weeks later, so they are well aware of the problem. I do not know if they recalled all of the incorrect copies of Volume 1, or if any of them are still out there. Should you find Volume 1 in a physical store, I would suggest that after buying it, you go right away to the customer service desk and open it up in front of a store employee. That way, if it's the wrong discs inside, you can get your money back. Alternatively, call up
Lionsgate's Santa Monica headquarters
at
310-449-9200
and see if they have a replacement program in place.)
[ SYNOPSIS ]
Get ready to rumble with the high-octane 8-part documentary series from A&E Network and WWE Studios. Helmed by some of the industry's top directors and storytellers, this highly anticipated docuseries -- including films on "Stone Cold" Steve Austin, "Rowdy" Roddy Piper, "Macho Man" Randy Savage, Booker T, Shawn Michaels, Ultimate Warrior, Mick Foley, and Bret "Hitman" Hart -- gives fans the ultimate ringside seat to the real-life stories behind the showbiz acrobatics, smack talk, and larger-than-life alter-egos of these WWE legends.
[ QUICK THOUGHTS ]
I know that WWE had a hand in producing the show, and providing access to talent and footage, but I don't know how much creative control WWE had over the narrative being told. I don't see much in the way of "revisionist history" at play here, other than there being no mention of the domestic battery charges that were brought against Steve Austin years ago. Granted, I don't claim to be 100% knowledgeable about the lives of each of the wrestlers (I will not be calling them "WWE Superstars"), so there may be other omissions.
Dark Side of the Ring
aired
their Ultimate Warrior episode
, entitled "Becoming Warrior", on May 27, 2021, just four days after A&E aired the episode included here. Neither episode provides the definitive story of Jim Hellwig's life, but when taken together, a much more complete picture is painted. The only aspect that differs between them involves Warrior's racist and homophobic beliefs. In
Biography
, his widow Dana claims that his beliefs were the result of being influenced by people like Rush Limbaugh. However,
Dark Side of the Ring
showed a clip of Warrior speaking in front of other like-minded individuals telling them that it was when he met Dana, that he took on those beliefs. Obviously, Dana is not going to admit that she brought out those beliefs in him. Anyway, other than that, all of these documentaries seem pretty fair and accurate.
I'd be remiss if I didn't point out that Mick Foley was previously the subject of a
45-minute Biography episode back in 1999
. The Foley episode on the DVD is all new.
[ EPISODE INFORMATION ]
Each individually-sold "Volume" is a two-disc set containing four feature-length episodes (two episodes per disc). Both Volumes together include all 8 episodes of the season that aired on A&E from April 18 to June 6, 2021. I do not believe that any of the episodes are edited, and what little licensed music I remember hearing in the A&E broadcasts is present on the DVDs.
Volume 1:
1. "'Stone Cold'Steve Austin" (April 18, 2021) (1:26:20)
2. "'Rowdy' Roddy Piper" (April 25, 2021) (1:26:07)
2. "'Macho Man' Randy Savage" (May 2, 2021) (1:26:07)
4. "Booker T" (May 9, 2021) (1:26:11)
Volume 2:
1. "Shawn Michaels" (May 16, 2021) (1:26:06)
2. "Ultimate Warrior" (May 23, 2021) (1:26:11)
3. "Mick Foley" (May 30, 2021) (1:26:12)
4. "Bret 'Hitman' Hart" (June 6, 2021) (1:25:46)
[ SPECIFICATIONS ]
The show is presented in a 1.78:1 aspect ratio in anamorphic widescreen. Audio languages include English (Dolby Digital 2.0). Subtitle languages include English SDH.
[ SPECIAL FEATURES ]
There are no special features included on either Volume.
[ ADDITIONAL INFORMATION ]
No Digital Copy code vouchers or slipsleeves are included with either volume.
[ PURCHASE LINKS ]
Biography: WWE Legends
is only available on DVD in two individually-sold volumes:
Volume 1
and
Volume 2
. There is no Blu-ray release, nor is there a set containing all episodes together.
This item has been provided by Lionsgate for review on this site.
No feedback yet
Leave a comment