By Paul Rudoff on Oct. 13, 2021 at 4:10 PM in Home Video, Horror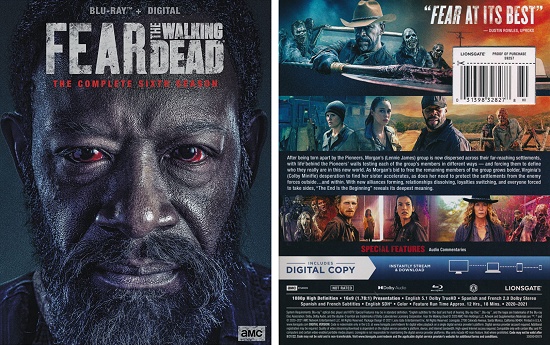 Lionsgate recently released the
Fear The Walking Dead: The Complete Sixth Season Blu-ray
(aka Season 6). Read on to find out more about it...
[ SYNOPSIS ]
After being torn apart by the Pioneers, Morgan's (Lennie James) group is now dispersed across their far-reaching settlements, with life behind the Pioneers' walls testing each of the group's members in different ways - and forcing them to define who they really are in this new world. As Morgan's bid to free the remaining members of the group grows bolder, Virginia's (Colby Minifie) desperation to find her sister accelerates, as does her need to protect the settlements from the enemy forces outside...and within. With new alliances forming, relationships dissolving, loyalties switching, and everyone forced to take sides, "The End Is the Beginning" reveals its deepest meaning.
[ QUICK THOUGHTS ]
After a weak fifth season,
Fear The Walking Dead
returns to form with the much stronger sixth season. The first half of the season wraps up the Viriginia storyline, though it's dragged out a little bit. Case in point: June (Jenna Elfman) had a chance to kill Virginia while they were both trapped at an oil field, but because June is one of our "goodie goodie" heroes, she saved her instead. As a result, more people died and more bad stuff happened. The second half of the season introduces a new bad guy in the form of the deranged Teddy Maddox, played with glee by John Glover. Yeah, Daniel Clamp from
Gremlins 2
. The Teddy storyline is what all of that "The End Is the Beginning" graffiti was about. Anyway, this season features two of the series best episodes: "In Dreams" and "J.D.". Although the season ends on a bit of absurdity, it does leave me wanting to see Season 7.
[EPISODE INFORMATION ]
The four-disc set includes all 16 episodes of the season that aired on AMC from October 11, 2020 to June 13, 2021.
Disc 1:
1. "The End Is the Beginning" (October 11, 2020) (51:22)
2. "Welcome to the Club" (October 18, 2020) (44:10)
3. "Alaska" (October 25, 2020) (42:00)
4. "The Key" (November 1, 2020) (50:37)
Disc 2:
5. "Honey" (November 8, 2020) (48:45)
6. "Bury Her Next to Jasper's Leg" (November 15, 2020) (41:14)
7. "Damage from the Inside" (November 22, 2020) (48:01)
8. "The Door" (April 11, 2021) (50:28)
Disc 3:
9. "Things Left to Do" (April 18, 2021) (50:16)
10. "Handle with Care" (April 25, 2021) (44:28)
11. "The Holding" (May 2, 2021) (46:01)
12. "In Dreams" (May 9, 2021) (47:47)
Disc 4:
13. "J.D." (May 16, 2021) (47:43)
14. "Mother" (May 23, 2021) (45:03)
15. "USS Pennsylvania" (June 6, 2021) (42:50)
16. "The Beginning" (June 13, 2021) (50:09)
[ SPECIFICATIONS ]
The show is presented in a 1.78:1 aspect ratio. Audio languages include English (Dolby TrueHD 5.1), French (Dolby Surround 2.0), and Spanish (Dolby Surround 2.0). Subtitle languages include English SDH, French, and Spanish.
[ SPECIAL FEATURES ]
Here's a list of all of the special features that can be found throughout the set. The commentaries are on the discs with their related episodes.
Audio Commentary for "The End Is the Beginning" - with executive producers and co-showrunners Andrew Chambliss and Ian Goldberg, and actor Lennie James.
Audio Commentary for "In Dreams" - with director Michael Satrazemis and actor Karen David.
Audio Commentary for "J.D." - with director Aisha Tyler, and actors Jenna Elfman and Keith Carradine.
Audio Commentary for "The Beginning" - with executive producers and co-showrunners Ian Goldberg and Andrew Chambliss, and actor Colman Domingo.
[ ADDITIONAL INFORMATION ]
A Digital Copy code voucher is also included in the standard four-disc blue Blu-ray case. The first print run includes a slipsleeve.
I have to point out that the Blu-ray menus are horrible. The text is extremely small, so it can't be easily read from far away. Compounding the problem is that the highlighter is red, and the background image is nearly all red. If it doesn't look too bad in the images below, try looking it it from 10-feet away.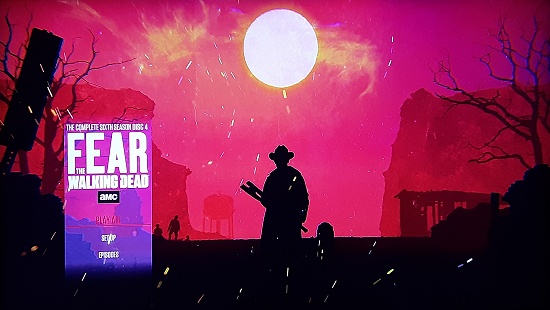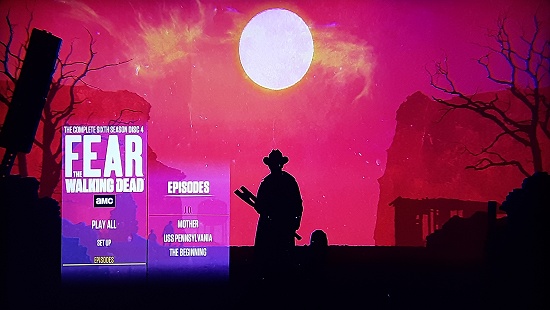 [ PURCHASE LINKS ]
Fear The Walking Dead: The Complete Sixth Season
is available on
Blu-ray
and
DVD
. You can
purchase all seasons of Fear The Walking Dead at Amazon
. I previously
reviewed the Season 4 Blu-ray
.
This item has been provided by Lionsgate for review on this site.
No feedback yet
Leave a comment