By Paul Rudoff on Feb. 22, 2022 at 10:30 PM in Wrestling, Home Video, Horror
Join me as I do a quick review round-up for the best of this month's new home video releases...
All of the items below have already been released and are available for purchase from Amazon at the links provided. The Corner Penthouse will earn a very tiny commission from your purchase using these links.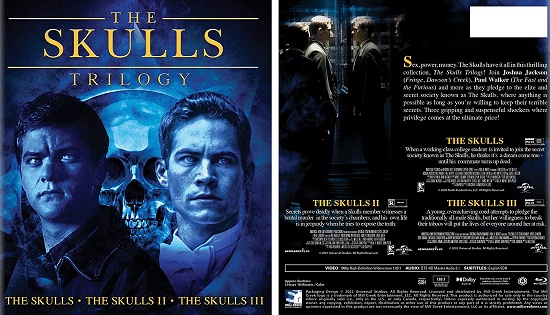 The Skulls Trilogy (2000-2004)
• BUY IT:
Blu-ray
,
DVD
.
• VIDEOS:
The Skulls Trailer
,
The Skulls II Trailer
,
The Skulls III Trailer
.
• SYNOPSIS:
Sex, power, money. The Skulls have it all. Join Joshua Jackson, Paul Walker, and more, as they pledge to the elite and secret society known as The Skulls, where anything is possible as long as you're willing to keep their terrible secrets. Three gripping and suspenseful shockers where privilege comes at the ultimate price!
THE SKULLS
(2000) - When a working-class college student is invited to join the secret society known as The Skulls, he thinks it's a dream come true - until his roommate turns up dead.
THE SKULLS II
(2002) - Secrets prove deadly when a Skulls member witnesses a brutal murder in the society's chambers, and his own life is in jeopardy when he tries to expose the truth.
THE SKULLS III
(2004) - A young, overachieving coed attempts to pledge the traditionally all-male Skulls, but her willingness to break their taboos will put the lives of everyone around her at risk.
• SPECIAL FEATURES:
None.
• RATING:
The Skulls
: PG-13 for violence and brief sexuality. The Skulls II: R for brief nudity. The Skulls III: PG-13 for violence.
• NOTES:
All three films are decent early-2000s teen thrillers. Some of my favorite actresses appear in them. Malin Akerman makes her feature debut as the "Coed in Caleb's Apartment" in the first film, and Lindy Booth stars as "Kelly" in the second film. All three movies are presented on one disc, with the second and third films making their Blu-ray debut here. It would have been nice if Mill Creek spread them out onto, at least, two discs with all of the DVD special features, but this is a budget release, so I did not expect that.
Universal's 2018 Blu-ray of the first film
includes the old
DVD special features
, which is an audio commentary by director Rob Cohen, a "Spotlight on Location" making-of featurette, and deleted scenes (with optional director's commentary). The
second film's DVD
has a "making of" featurette, while the
third film's DVD
has an "Inside the Skulls III" featurette, which the case describes as "a behind-the-scenes look at shooting the underwater sequence with cast and crew interviews". If you really want the special features, you could buy the old DVDs to go along with this new Trilogy disc. Otherwise, this Trilogy release gets the job done.
• CREDIT:
This item has been provided by Mill Creek Entertainment for review on this site.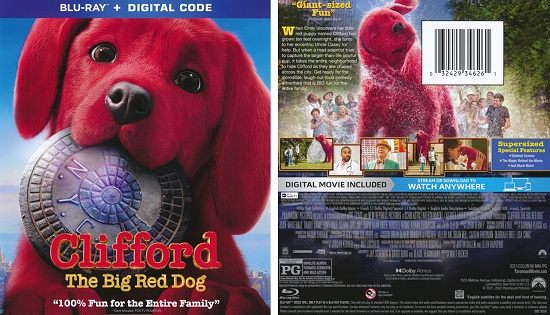 Clifford The Big Red Dog (2021)
• BUY IT:
Blu-ray
,
DVD
.
• VIDEOS:
Trailer
,
Final Trailer
,
Book to Screen
,
Madison Beer's "Room For You" Lyric Video
.
• SYNOPSIS:
When Emily (Darby Camp) discovers her little red puppy named Clifford has grown ten feet overnight, she turns to her eccentric Uncle Casey (Jack Whitehall) for help. But when a mad scientist tries to capture the larger-than-life playful pup, it takes the entire neighborhood to hide Clifford as they race across the city.
• SPECIAL FEATURES:
Part of the Pack
(6:34) - Get a behind-the-scenes look at Clifford's big movie with interviews from cast and crew.
Acting is for the Dogs
(3:20) - There's more to Clifford than meets the eye: meet the puppeteers who brought the giant red pup to life!
The Magic of Bridwell
(7:11) - See where Clifford's big adventure began from creator Norman Bridwell's early drawings for the beloved Scholastic book series to Clifford's worldwide fame.
Tips & Tricks for Taking Care of a 10-Foot Dog
(2:28) - Get hilarious tips on how to take care of a giant dog!
Deleted Scenes
(2:50) - The three scenes are "Dr. Russ", "Searching for Bridwell", and "Animal Blessings".
• RATING:
PG
for impolite humor, thematic elements and mild action.
• NOTES:
A fun family film that feels like comfort food. Enjoyable for all ages. The online special features, see the Videos section above, are not included. More photos and videos can be found on
Paramount's site
. A digital copy code voucher is included. In addition to this film, there is also an animated feature starring the voice of John Ritter as the titular dog,
Clifford's Really Big Movie (2004)
.
• CREDIT:
This item has been provided by Paramount for review on this site.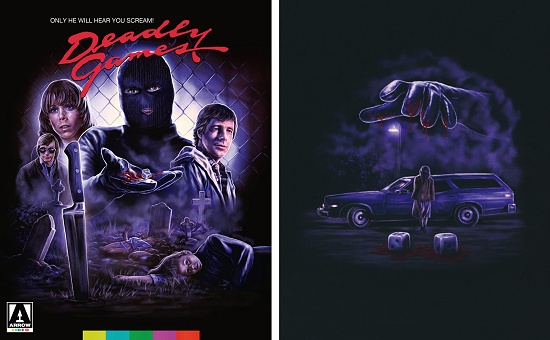 Deadly Games (1982)
• BUY IT:
Blu-ray
.
• VIDEOS:
Trailer
.
• SYNOPSIS:
A masked maniac with a penchant for a horror-themed board game is playing his own twisted game with the women of a small American town. Each time the dice is rolled, another victim meets a grisly end. Returning home to mourn the death of her murdered sister, Keegan (Jo Ann Harris) befriends local cop Roger (Sam Groom) and oddball cinema projectionist Billy (Steve Railsback) - but soon finds herself in the killer's sights.
• SPECIAL FEATURES:
Audio Commentary
- with The Hysteria Continues.
Sooty's a Sh*t
(24:15) - A brand new interview with actor Jere Rae-Mansfield.
Practical Magic
(21:39) - A brand new interview with special effects and stunt coordinator John Eggett.
Image Galleries
- Featuring "Promotional" and "Behind the Scenes" photos.
Original Trailer
(1:58).
BD-ROM:
Original screenplay under the title "Who Fell Asleep" in PDF format.
• RATING:
R
.
• NOTES:
The film is available on disc for the first time ever, with a brand new restoration from the recently-unearthed camera negative that looks fantastic for a 40-year-old film. Inside the thick clear plastic case is a fully-illustrated booklet with a new essay by film historian/author Amanda Reyes. The reversible case artwork features the original poster art on one side, and newly-commissioned artwork by Ralf Krause on the other. The first print run includes an embossed slipcover.
• CREDIT:
This item has been provided by Arrow Video for review on this site.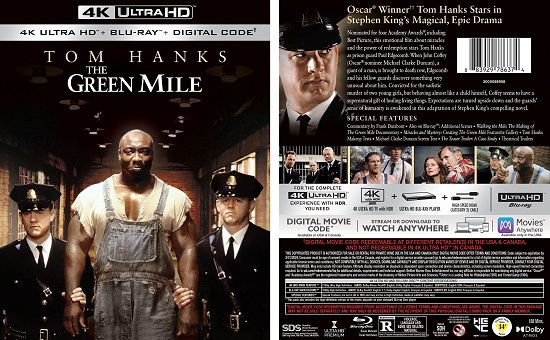 The Green Mile (1999)
• BUY IT:
4K UHD
,
Diamond Luxe Edition Blu-ray
,
DVD
.
• VIDEOS:
Trailer
.
• SYNOPSIS:
When John Coffey (Michael Clarke Duncan), a giant of a man, is brought to death row, Paul Edgecomb (Tom Hanks) and his fellow guards discover something very unusual about him. Convicted for the sadistic murder of two young girls, but behaving almost like a child himself, Coffey seems to have a supernatural gift of healing living things.
• SPECIAL FEATURES:
Audio Commentary
- by director Frank Darabont. The rest of the special features are found only on the Blu-ray disc, which dates back to 2009.
Walking the Mile: The Making of The Green Mile
(25:30) - Features interviews with all the key players and lots of behind-the-scenes footage.
Miracle and Mystery: Creating The Green Mile
(1:42:54 play all) - This six-part documentary explores every aspect of the
The Green Mile
's journey from serialized novel to the screen. Includes "Stephen King: Storyteller", "The Art of Adaptation", "Acting on the Mile", "Designing the Mile", "The Magic of the Mile", and "The Tail of Mr. Jingles".
Deleted Scenes
(3:38) - Two scenes, "Bitterbuck's Family Says Goodbye" and "Coffey's Prayer", with optional commentary by director Frank Darabont.
Michael Clarke Duncan Screen Test
(8:26) - The action's winning audition.
Tom Hanks Makeup Tests
(5:30) - For most of the production, Frank Darabont always intended for Tom Hanks to play the old version of Paul Edgecomb as well. After seeing the old age makeup by Rick Baker and Greg Nicotero, you'll understand why Darabont decided to cast Dabbs Greer instead.
The Teaser Trailer: A Case Study
(4:47) - Frank Darabont talks about the infamous "lost" teaser trailer (also on the disc) which he abandoned when he realized that the mouse looked like a giant rat.
Teaser Trailer
(1:58).
Theatrical Trailer
(2:23).
• RATING:
R
for violence, language and some sex-related material.
• NOTES:
This classic film has never looked better than it does on this new 4K disc. All you have to do is watch the 12-year-old Blu-ray included here to see the difference. It's a shame that the "Walking the Mile (Extended Version)" documentary (1:36:26) that is included in HD on a separate Blu-ray disc in the Diamond Luxe Edition Blu-ray release (and the
The Frank Darabont Collection Blu-ray set
) isn't included here. If Warner Brothers didn't want to put the full documentary on the new 4K disc (the old 26-minute version in SD is on the old Blu-ray here), then they should have included the pre-existing Blu-ray bonus disc from those other sets and made this a three-disc set. A Digital Copy code voucher is also included in the standard two-disc black UHD Blu-ray case. Warner Brothers released
The Shawshank Redemption on 4K
last year (
reviewed here
). Even if Warner Brothers releases
The Majestic
on 4K, I still can't retire my
The Frank Darabont Collection
Blu-ray set due to the omission of the "Walking the Mile (Extended Version)" here (unless I buy the Diamond Luxe Edition Blu-ray to replace it).
• CREDIT:
This item has been provided by Warner Brothers for review on this site.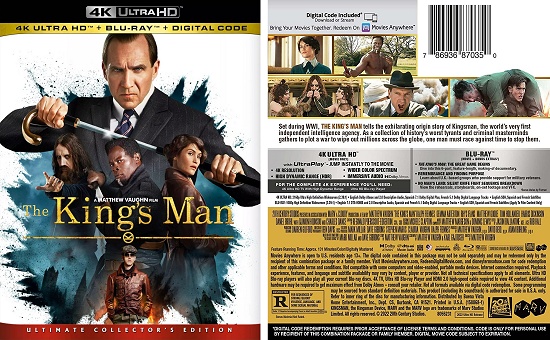 The King's Man (2021)
• BUY IT:
4K UHD
,
Blu-ray
,
DVD
.
• VIDEOS:
Trailer
. Also these Special Features clips:
Rhys Ifans as Rasputin
,
Historical Characters
,
Dance Fight
,
Harris in No Man's Land
,
Ralph Fiennes and Matthew Vaughn
,
Stanley Tucci
,
Djimon Hounsou as Shola
.
• SYNOPSIS:
Set during WWI,
The King's Man
tells the exhilarating origin story of Kingsman, the world's very first independent intelligence agency. As a collection of history's worst tyrants and criminal masterminds gather to plot a war to wipe out millions across the globe, one man must race against time to stop them.
• SPECIAL FEATURES:
All are found on the Blu-ray disc only.
The King's Man: The Great Game Begins Documentary
(1:29:33 play all) - This six-part documentary looks at all aspects of the production. In "A Generation Lost", you'll discover how the filmmakers created a richly textured story that explores the origins of the Kingsman spy organization. In "Oxfords and Rogues", you'll meet the phenomenal new cast of characters Matthew Vaughn has assembled. In "All the World's a Stage", you'll delve into the meticulous world-building of the film with interviews, on-location footage, artwork, and details of on-set construction and design. In "Instruments of War", you'll experience the analog spy tech and early 20th century weaponry utilized in the film and see a breakdown of the precise execution and evolution of the major stunts and combat in the film. In "Fortune Favors the Bold", you'll join Matthew Vaughn and his team for music scoring and sound design. In "Long Live the Kingsman", the cast and crew reveal their thoughts about their collective journey through the very special experience of making the film.
No Man's Land: Silent Knife Sequence Breakdown
(15:43) - Experience the creative process behind the harrowing knife battle sequence in several stages: rehearsals, storyboards, interviews and on-set footage, culminating with the atmospheric VFX.
Remembrance and Finding Purpose
(26:28) - Learn about amazing organizations such as The Royal British Legion and Help for Heroes, two U.K.-based resources for recovery, well-being and employment for military veterans. Also hear why Matthew Vaughn strongly supports their mission.
Original Red Band Trailer
(1:47).
• RATING:
R
for sequences of strong/bloody violence, language, and some sexual material.
• NOTES:
An enjoyable period drama/action film that moves the franchise away from the over-the-top silliness of the previous two movies,
The Secret Service
and
The Golden Circle
, which are available together on
4K UHD
and
Blu-ray
. These movies are based on the comic book
"The Secret Service" by Mark Millar and Dave Gibbons
.
• CREDIT:
This item has been provided by 20th Century Studios/Disney for review on this site.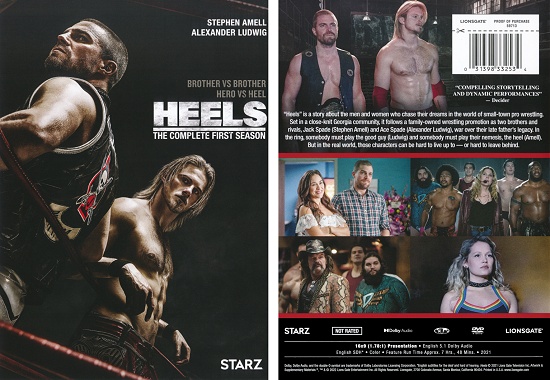 Heels: The Complete First Season (2021)
• BUY IT:
DVD
.
• VIDEOS:
Teaser
,
Trailer
.
• SYNOPSIS:
Heels
is the story about the men and women who chase their dreams in the world of small town pro wrestling. Set in a close-knit Georgia community, the show follows a family-owned wrestling promotion as two brothers and rivals, Jack Spade (Stephen Amell) and Ace Space (Alexander Ludwig), war over their late father's legacy. In the ring, someone must play the good guy (Ludwig) and someone must play their nemesis, the heel (Amell). But in the real world, those characters can be hard to live up to - or hard to leave behind.
• EPISODES:
Includes all eight episodes that aired on
the Starz channel
from August 15th to October 10th, 2021 on 2 discs (4 episodes per disc) in the original 1.78:1 aspect ratio (16:9 anamorphic widescreen).
1. "Kayfabe" (Aug. 15, 2021) (1:02:10)
2. "Dusty Finish" (Aug. 22, 2021) (57:17)
3. "Cheap Heat" (Aug. 29, 2021) (57:17)
4. "Cutting Promos" (Sep. 5, 2021) (58:02)
5. "Swerve" (Sep. 12, 2021) (56:34)
6. "House Show" (Sep. 19, 2021) (56:30)
7. "The Big Bad Fish Man" (Oct. 3, 2021) (58:07)
8. "Double Turn" (Oct. 10, 2021) (56:46)
• SPECIAL FEATURES:
None.
• RATING:
Not Rated, but I would equate it to an "R" for language and nudity.
• NOTES:
As a wrestling fan, I enjoyed this drama series. It didn't hurt that Kelli "The Burglar" Berglund, whom I remember from the Disney Channel series
Lab Rats
, appears topless in a few episodes. A couple of well-known wrestlers make appearances, too. C.M. Punk (credited by his real name, Phil Brooks) plays Ricky Rabies in episodes #3 and #8. Fellow Long Islander, Mick Foley, plays Dickie Valentine in episode #6. Star Stephen Amell even has some wrestling experience, having appeared on WWE TV back in 2015, and wrestling in a
SummerSlam 2015 match
where he and Neville (currently AEW's Pac) defeated Stardust (currently Cody Rhodes) and Wade Barrett. He later wrestled for Ring of Honor in 2017 at the Survival of the Fittest event, where he was on the winning team of a five-on-four tag team match. That lead to him wrestling for AEW in 2018 at the All In event, where he lost to Christopher Daniels. On February 29, 2020, Amell made an appearance at AEW's Revolution event, where he accompanied Cody Rhodes for his match against MJF. Anyway, the only negative thing I have to say about this DVD set is that there is no Blu-ray release. I don't understand this trend of presenting HD material on DVD only. Lionsgate previously did it with the
Biography: WWE Legends series
. I get that it's cheaper to produce DVDs than Blu-rays, but the people who buy physical discs want a high-quality product. Those who don't care about quality will buy it digitally or stream it. No one benefits from these "HD material on DVD only" releases.
• CREDIT:
This item has been provided by Lionsgate for review on this site.
If you're looking for more cool stuff to buy, check out all of the
other items I've reviewed
over the years. I'm sure you'll find something you'll love.
No feedback yet
Leave a comment