By Paul Rudoff on Mar. 27, 2022 at 7:40 PM in Home Video, Horror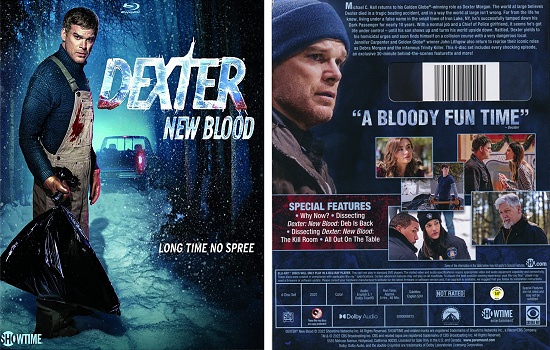 CBS Home Entertainment recently released the
Dexter: New Blood Blu-ray
. Read on to find out more about it...
[ SYNOPSIS ]
The world at large believes Dexter Morgan (Michael C. Hall) died in a tragic boating accident, and in a way the world at large isn't wrong. Far from the life he knew, living under a false name in the small town of Iron Lake, New York, he's successfully tamped down his Dark Passenger for nearly 10 years. With a normal job and a Chief of Police girlfriend, it seems he's got life under control - until his son shows up and turns his world upside down. Rattled, Dexter yields to his homicidal urges and soon finds himself on a collision course with a very dangerous local.
[ EPISODE INFORMATION ]
The four-disc set includes all 10 episodes that aired on Showtime from November 7, 2021 to January 9, 2022.
Disc 1:
1. "Cold Snap" (November 7, 2021) (57:14)
2. "Storm of Fuck" (November 14, 2021) (52:26)
3. "Smoke Signals" (November 21, 2021) (51:11)
Disc 2:
4. "H is for Hero" (November 28, 2021) (45:01)
5. "Runaway" (December 5, 2021) (57:34)
6. "Too Many Tuna Sandwiches" (December 12, 2021) (58:16)
Disc 3:
7. "Skin of Her Teeth" (December 19, 2021) (45:56)
8. "Unfair Game" (December 26, 2021) (43:47)
9. "The Family Business" (January 2, 2022) (57:43)
Disc 4:
10. "Sins of the Father" (January 9, 2022) (57:31)
[ SPECIFICATIONS ]
The show is presented in a 2.39:1 aspect ratio. Audio languages include English. Subtitle languages include English SDH.
[ SPECIAL FEATURES ]
Here's a list of all of the special features that can be found throughout the set.
Why Now (2:13) - Dexter Morgan is back. Showrunner Clyde Phillips and stars Michael C. Hall & Jennifer Carpenter are here to tell you what to expect.
Dissecting Dexter: New Blood - Deb is Back (1:58) - Deb returns as Dexter's conscience while he navigates his new life. Michael C. Hall and Jennifer Carpenter dive into their roles as Dexter and Deb Morgan.
Dissecting Dexter: New Blood - The Kill Room (1:58) - Get a behind-the-scenes look at Dexter's kill room.
All Out on the Table (30:04) - The cast and crew lay it all out on the table to dissect their characters, reveal exclusive behind-the-scenes moments, and break down the emotional finale.
[ ADDITIONAL INFORMATION ]
The set is packaged in a standard four-disc blue Blu-ray case. The first print run includes a slipcover.
[ NOTES ]
It's been almost 14 years since I reviewed a Dexter home video release. A lot had changed since
I reviewed the Season 1 DVD release
. The original series came and went after 8 seasons, ending in 2013 with a final episode that left fans puzzled... to say the least.
New Blood
is, essentially, Season 9. It picks up 10 years after
that
ending, giving fans a much more ridiculous conclusion to the tale of Dexter Morgan. The last episode, in particular, is a clusterfluff of character stupidity with story logic that has zero basis in reality. The implausibilities stretch viewers suspension of disbelief. It wasn't a bad season up until that point, though I disliked the inclusion of a "rich polluter" character that the first episode implied was going to be the season's big bad, but who is seen only two more times and then is never spoken of again. Yeah, you can fast forward through that protest scene in the first episode because it is a red herring that should have been edited out. Furthermore, the publicity for the show hyped up the reappearance of John Lithgow as the Trinity Killer, but he only appears in
one freaking shot
!  Yeah, they didn't even see fit to even give him one scene to star in! Such a waste. That's a good description for this epilogue in the tale of Dexter Morgan. It's a missed opportunity.
Dexter: New Blood
is available on
Blu-ray
,
Blu-ray Steelbook
, and
DVD
. The original series has been collected in
Dexter: The Complete Series
, which is available on
Blu-ray
and
DVD
.
This item has been provided by CBS Home Entertainment for review on this site.
No feedback yet
Leave a comment